IaaC and Fab Lab Barcelona present "Beyond"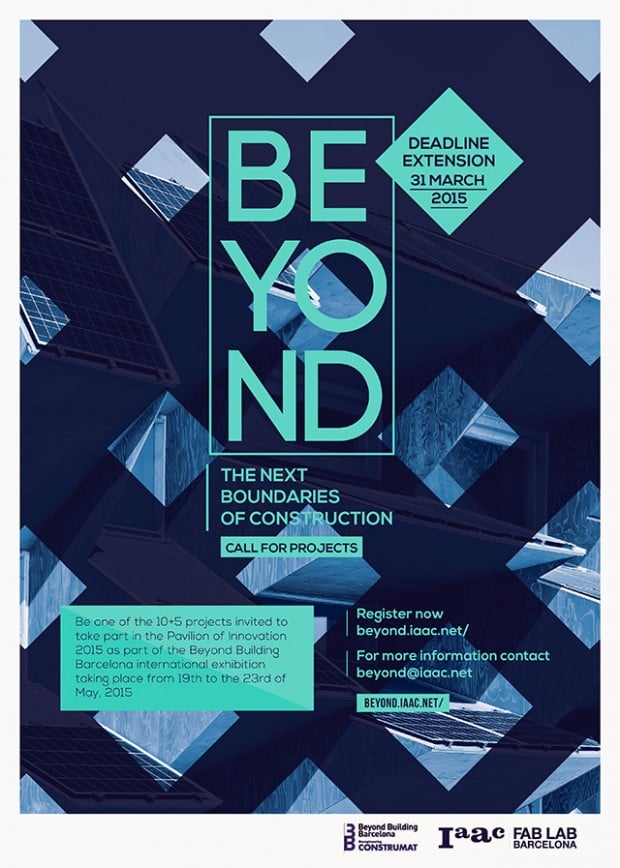 * The deadline for projects submission has been extended till the 31st of March 2015
BEYOND aims to bring together world class projects in the fields of research and education, in a physical and online exhibition that will be hosted within the Beyond Building Barcelona (former Construmat) fair. Beyond Building Barcelona is the largest reunion of the construction sector and associated industries in Spain, Southern Europe, Northern Africa, and Latin America.
Built projects and prototypes will be selected to be exhibited in the international event BEYOND BUILDING BARCELONA, within the PAVILION OF INNOVATION 2015. The Innovation Pavilion in BBB 2015, curated by IAAC|Fab Lab Barcelona, will present new ideas and construction paradigms emerging from international high level research and pilot projects of excellence that form the basis of future buildings and cities.
BEYOND becomes the tool to identify the innovative projects of excellence developed within institutes, academies and other research centres, and constructing the bridge that will connect these connecting innovations with the industry and businesses.
For more information, click here.
---
Fab Lab Barcelona is a production and research centre specialised in advanced digital manufacturing technologies and their applications in a physical and/or digital reality in areas of design, architecture, physical computing, and sustainability. Located at the headquarters of the Institute of Advanced Architecture of Catalonia (IAAC), in the city of Barcelona, Fab Lab serves as a technology platform for different educational and research programs directed by the IAAC, along with other international institutions such as the Center for Bits and Atoms of the Massachusetts Institute of Technology (MIT).
IAAC is a cutting edge education and research centre dedicated to the development of an architecture capable of meeting the worldwide challenges.