Minimansions de concierto en La Nau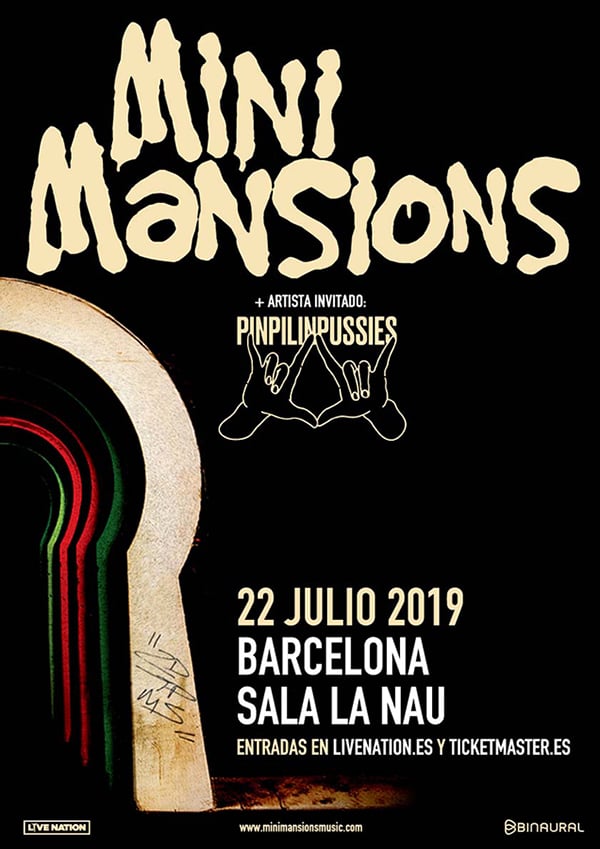 ¡Mini Mansions actuará en La Nau!
El supergrupo formado por Michael Shuman, bajista de Queens Of The Stone Age Zach Dawes, guitarrista-bajista de The Last Shadow Puppets, y Tyler Parkford, quien ejerció de teclista de Arctic Monkeys en la última gira de "Tranquility Base Hotel & Casino" actuaran en La Nau para celebrar el dècimo aniversario del magazine musical online Binaural!
Este será el primer concierto que la banda ofrecerá en España en toda su historia como formación musical. A lo largo de esta última década el trio de california ha editado dos referencias discográficas: la ya citada "Mini Mansions" y un segundo LP, "The Great Pretenders", que fue publicado en 2015 y contó con estelares colaboradores del calibre de Alex Turner de Arctic Monkeys ('Vertigo') y Brian Wilson de The Beach Boys ('Any Emotions'). Poco después, en 2018, editaron un EP que presentó colaboraciones de Jon Theodore (Queens Of The Stone Age, The Mars Volta) y Mike Kerr de Royal Blood ('A Girl Like You').
El tercer trabajo de Mini Mansions saldrá al mercado el próximo 26 de julio de 2019. Titulado "Guy Walks Into A Bar…", el álbum incluirá singles tan potentes como 'GummyBear', 'Works Every Time' o 'Hey Lover' en la que participó la cantante de The Kills: Alison Mossheart. El concierto de Mini Mansions el próximo 22 de julio servirá para presentar en primicia el nuevo álbum de la banda.
Binaural es un magazine online musical que lleva más de diez años dando apoyo y difundiendo la escena musical nacional e internacional. Su creador, Pablo Porcar,  lo inició para dar respuesta a su propia necesidad de un espacio de encuentro para la música indie y el rock alternativo, Binaural ha acabado convirtiéndose después de una década en medio de referencia para muchos melómanos que buscan una plataforma hecha por, y para, los amantes de la música.
---
La Nau
c/ Álava, 30