4ª EDICIÓN DE WWI SUMMIT 2017 – FROM OPEN INNOVATION TO CHANGE OF CULTURE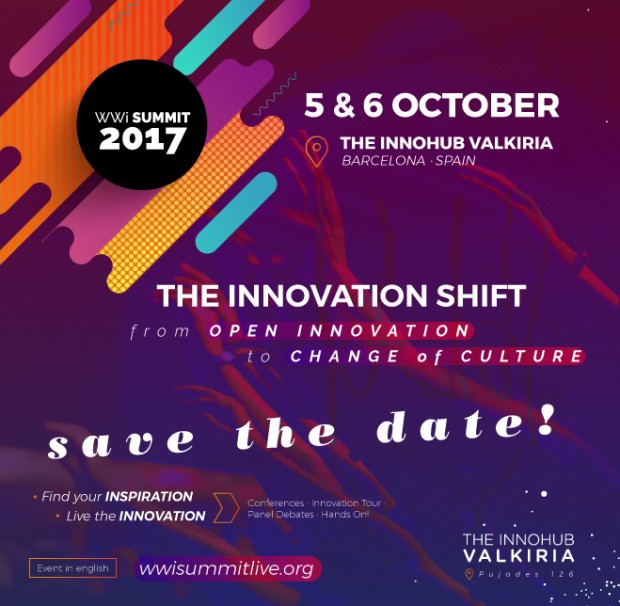 The Innohu Valkiria es un Hub de Innovación Laboral que analiza las tendencias de las nuevas formas de trabajo y su repercusión en la manera de vivir y de pensar. Se trata de una plataforma empresarial, situada en el Distrito del 22@ de Barcelona. El espacio de 1500 m2 cuenta con tres áreas de negocio: la organización de eventos corporativos y el alquiler de salas, el coworking space y el restaurante Bistrot.
En la cuarta edición deWWi Summit 2017 se tratarán las nuevas tendencias y contexto en Innovación Laboral: 'Reshaping the Future'. El evento que se celebra los días 5 y 6 de octubre está centrado en el nuevo modelo de negocio 'Open Innovation' y en la transformación de la cultura organizativa. Contarán con expertos en estrategias de innovación que deleitarán con sus conocimientos y dinámicas de grupo. Hasta saldrán a la calle a conocer empresas innovadoras de primera mano.
Más información e inscripciones en wwisummitlive.org.
---
THE INNOHUB VALKIRIA
4ª EDICIÓ DE WWI SUMMIT: FROM OPEN INNOVATION TO CHANGE OF FUTURE
5 I 6 DE OCTUBRE
126 C/ PUJADES